Description
Here is something any 3-year-old and above will love. A go kart specifically designed to provide the thrills in kart racing for young kids. Our Kids Go Kart has everything to make go karting a memorable and fun experience for every child who loves riding low and fast.
Made of a very sturdy steel frame with oxygen-welded joints for extra stability and durability, the Kids Go Kart has a large and adjustable seat with a high back rest for maximum comfort. Pedal power is assisted by a forward and reverse control and a sporty and highly responsive 3-point steering wheel. The large pneumatic rubber tyres provide good grip and traction as well as good shock absorption for a smooth ride. And for safety, the bike chain is fully covered to prevent any injury whilst the manual brake is super effective too. Not least, the striking colours and finishing simply look awesome.
With so much going for the Kids Go Kart, your child will simply love its exhilarating pace with every ride.
Features
Race-style go kart
Safe karting experience for children
Fully pedal powered and speeds control
Easy handling- sporty and responsive three-point steering
Two pedal modes-forward or reverse
Manual brake for added safety at all times
Oxygen welded joints steel frame for durability and reliability
Premium impact absorbing rubber tyres
Large seating area for maximum comfort
Large treaded pneumatic tyres
Adjustable high back seat
Fully covered bike chain; preventing contacts with children
Easy assembly required
Great outdoor fun for children above 3 year old
Specifications
Pedal modes: forward or reverse
Tyre type: rubber pneumatic
Tyre diameter: 25cm
Frame: steel
Suitable for children at height :95-140cm
Tyre diameter: 25cm
Brake: manual
Capacity: 30KG
Child age: Above 3 years old
Color: Blue
Package Content
1 x Pedal Go Kart
1 x Manual
Additional information
| | |
| --- | --- |
| Weight | 11.5 kg |
| Free Shipping | Free Shipping |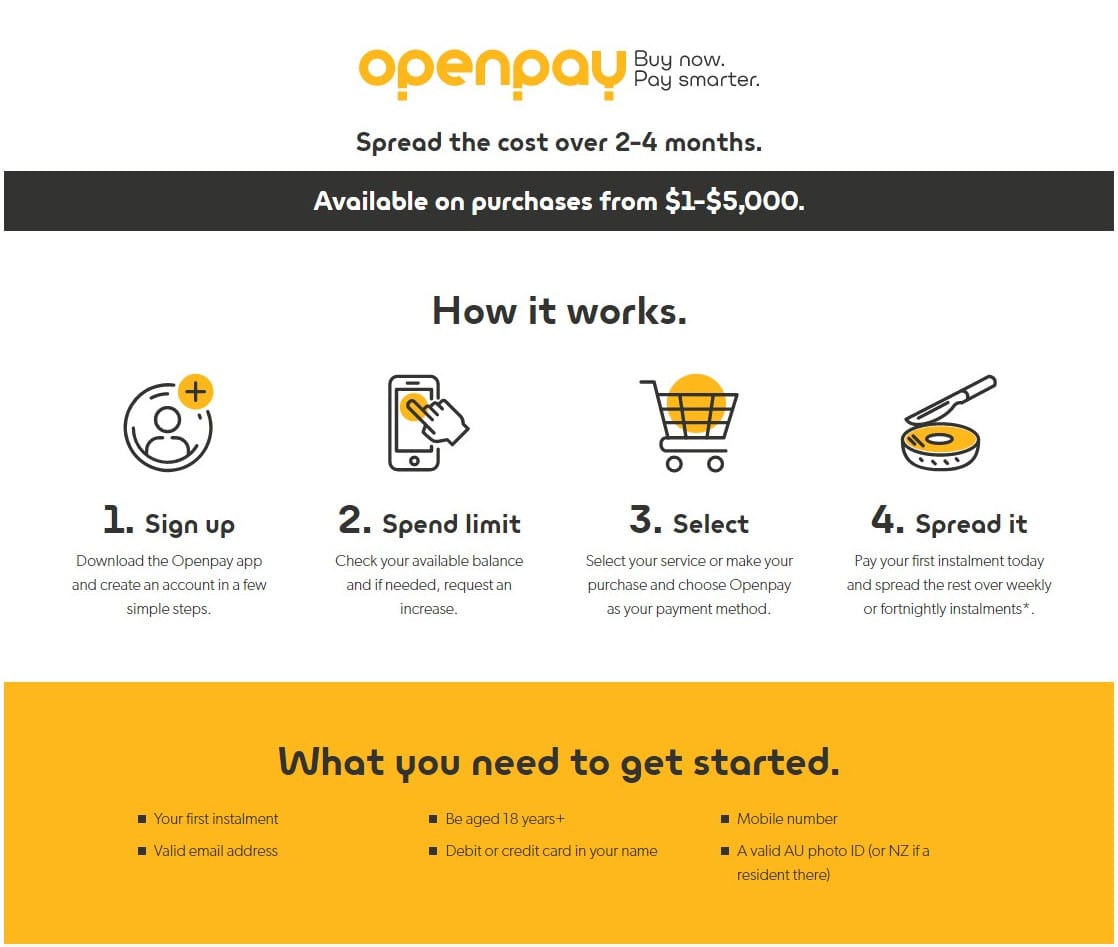 Want it
Create your account in
moments and select
Zip at checkout
Get it
We pay the store,
you get the goods,
nothing to pay today
Own it
Choose how you
pay us back over time,
interest free
Reusable account
We give you one account with one monthly statement, no matter how many times you shop
Interest free
No interest, hidden fees or
upfront payments
Flexible payments
Choose repayments that suit your lifestyle – weekly, fortnightly
or monthly
We own easy
We only charge a $6 monthly account fee when you have an outstanding account balance.
If you pay off your balance by the due date, we'll waive the fee.
That's it. Easy.
FAQs
What is Zip Pay?

Zip Pay is a reusable account of up to $1000 that lets you shop now and pay later. No upfront payments and interest free always. Make as many purchases as you like up to your account limit, then set up flexible repayments to suit your lifestyle. Easy as.

How does it work?

Apply in moments and get approved for up to $1000 on the spot. Once approved, start shopping online and instore, wherever you see Zip at checkout. That's it – your purchase is all yours, with nothing to pay today. Interest free always.

How do repayments work?

Your first payment won't be due until the end of next month. When you open your account, we'll set up a monthly payment of $40 (or less if the amount you owe is under $40). This will come from your linked debit card on the last day of each month and run until your purchases are paid off.

Finally, if there's nothing owing on your account, there's nothing to pay. Your account simply remains active until you're ready to make a purchase.

Am I eligible for Zip Pay?

To be eligible to apply for a Zip Pay account, you need to:
Be an Australian citizen or permanent resident
Be at least 18 years of age
Have a valid Facebook or PayPal account, in your own name
Have a valid debit card, in your own name
Have not declared bankruptcy or insolvency
What are the fees?

Zip Pay is 100% interest free, always. There's a $6 monthly account fee, this monthly fee is waived if your closing balance is paid by the due date. No balance no fee. And you'll pay nothing upfront – there are no setup fees and no hidden charges.
If you don't meet your minimum monthly repayment, a $5 late fee may apply. That's it.

How do refunds work?

Start by speaking to the retailer – if they agree, they will process the refunded amount which will appear back in your Zip account. If a refund puts your Zip account in credit, you can contact us to have the amount refunded to your bank account instead. Or, simply use it for your next purchase.
Zip is an Australian ASX listed company.
How
it
works
Step 1
Choose LatitudePay at checkout
Look for LatitudePay in the online checkout or shopping cart. It won't cost you any extra – just select it as your payment option.
Step 2
Sign up for LatitudePay
First time you sign up you'll need to grab your ID (for example, an Australian Driver's Licence or Passport), plus your Visa or Mastercard for the weekly payments. It's easy and takes about two minutes. Next time you just log in.
Step 3
Real time approval
If approved, you're good to go… just like that. Pay 10% upfront (or more if you prefer) and the rest over 9 weekly payments. Go forth and shop.
Pooltableoffers generally offers a 12-month warranty on all products, unless stated otherwise. Some products will be provided with extended warranty for your peace of mind. Electronics products come with a 3-month warranty. Please refer to the product listing for the warranty period.
You are required to notify Pooltableoffers within 10 working days in the unlikely event that the item arrives damaged or faulty. In addition to a detailed description, you are required to provide images (or a short video clip if more appropriate) of the damage in order to proceed with the warranty process. Once assessed and approved by our customer service team, you will be contacted to proceed with the return, refund or replacement process. Please do not attempt to return the item without our approval.
To make a claim, you must provide us with a copy of your tax invoice or any kind of proof showing that you purchased the item from us. You need to also describe the problem precisely and provide evidence to support your claim, and state whether you are requesting a replacement, repair, refund or credit.
Refund generally takes up to 2 working days to process, and will notify you once the refund has been processed. However, please allow an additional 5 working days on top for your financial institution to process it.
A refund or replacement will not be provided if products are being misused, mishandled or mistakenly installed. Customers are responsible for following the instructions and advice given by the manufacturers.
Pay over 8 weeks with four easy installments with Afterpay! You can pay with Afterpay on any order up to $1000 and spread the cost over four equal payments from your credit or debit card. (Limit of $800 for debit card accounts)
The best part is you don't have to make full payment before your item arrives! Your order will be approved instantly, and if the items are in stock, they will ship the next day. Then you can enjoy your new product and let Afterpay help you organise your payment schedule.
If it's your first time with Afterpay, your first payment will be made at the time of purchase. If you've used Afterpay before, your first payment will be made 14 days after purchase.
Simply select 'Afterpay' as your payment method in the checkout and follow the prompts. No hidden fees and no lengthy application!
Term and Conditions | Privacy Policy
Transactions are processed through Afterpay's payment gateway.
LayBuy | The Smart Way To Pay

How It Works:
Simply select Pay by LayBuy at checkout.
Returning customers only need to confirm the order to complete the purchase.
New customers can sign up at checkout and start using LayBuy today.
Your order is processed immediately and your payment schedule is established.
Only a sixth is due today and the rest is split over 5 weekly automatic payments on the day of the original purchase.
For further details and FAQ's about LayBuy please visit their website here.